Garage Doors Repairs
"If we cannot fix it, you do not pay." - Our Policy
SALE starting up on January 4th for Garage Door Spring Repairs! Call today for an absolutely phenomenal Garage Door Spring Repair starting at only $175 with a FOUR YEAR warranty!
Having a broken garage door can be a real inconvenience and pose as a serious security threat for your home, vehicle, and/or posessions. Roll-Em-Up Garage Doors is your local garage door expert that performs garage door repairs on all makes and models. We guarantee your safety and peace of mind through our garage door services.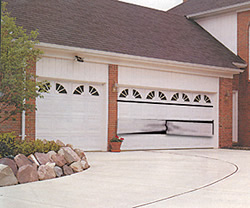 Due to aging or rough handling, garage doors often get a part broken which prevents it from functioning properly. Neglecting the faults in your garage door can further damage the door, making it completely un-operational. Whether it is the torsion spring, door handle or the panel, we can detect the problem with your door and provide a feasible repair in no time. The moment you detect a problem with your garage door, give us a call.

Our pricing makes us a popular choice for residential and commercial clients across the Great Inland Empire. We make sure that you get the most for your money with our affordable yet high quality garage door repairs. Inland Empire, or anywhere else, we will be able to assist you in any problems you may be having.

Service calls/$29 + parts
Spring Replacements starting at $139.00 Installed
Spring Repair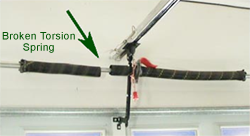 Garage door springs can break for many reasons. Regardless of the reason, we can come out and replace your springs the same day. We offer same day service for all kinds of door spring repairs & services or installation of new, in stock, garage doors. We can repair all kinds of garage door springs and provide replacements when needed. We offer same day service at reasonable prices.
If your garage door is running rough or jumping off the track, call us right away. A broken garage door spring can be a hazard to you and your family, because a broken spring can make the door roll down rapidly, thereby causing harm to the one standing close to it or your car if it is under it.  Before and after the garage door repairs, we perform a thorough inspection of the door to identify all kinds of damages and ensure that necessary adjustments are made.
Call us today to schedule your garage repair or service. 909.476.0288.